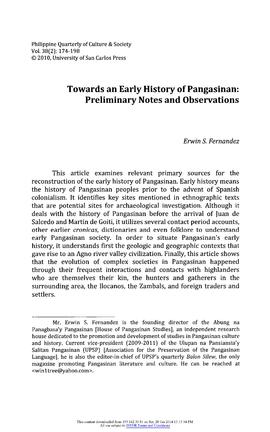 Towards an Early History of Pangasinan: Preliminary Notes and Observations
PH PH-PAN MDCL VF-00014
Item
2010
This article examines relevant primary sources for the reconstruction of the early history of Pangasinan. Early history means
the history of Pangasinan peoples prior to the advent of Spanish colonialism. It identifies key sites mentioned in ethnographic texts
that are potential sites for archaeological investigation. Although it deals with the history of Pangasinan before the arrival of Juan de
Salcedo and Martin de Goiti, it utilizes several contact period accounts, other earlier cronicas, dictionaries and even folklore to understand early Pangasinan society.
Fernandez, Erwin S.