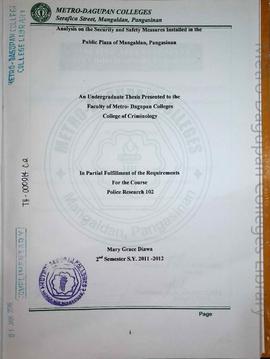 Analysis on the security and safety measures installed in the Public Plaza of Mangaldan, Pangasinan
Excerpt from Scope and Limitation of the Study:
This study focused on the security measures that are found in the public plaza of Mangaldan, Pangasinan. It also determined the effectiveness of these security measures in deterring criminal activities. However, only the public plaza of Mangaldan was the area of this study. It did not include the adjacent public places in Mangaldan specifically the church. It also excluded the personnel who are deployed by their agencies. It did not also include the different security agencies that are found in Mangaldan, Pangasinan.
Diawa, Mary Grace C.