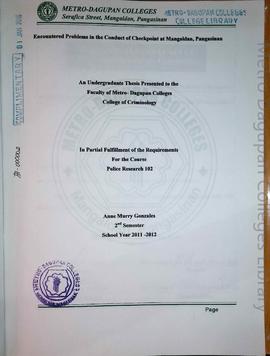 Encountered problems in the conduct of checkpoint at Mangaldan, Pangasinan
Excerpt from Scope and Limitation of the Study:
There were limitations in this study since only checkpoints in designated places in Mangaldan was focus of it. Policement in Mangaldan Police Station who are conducting various checkpoints were included in this study. Reactioins of the respondents, the perceived problems of both the police and the public were included in this study. An ordinance or law regarding conduct of checkpoint, if available, was included, techniques of conducting checkpoint was included.
However, this study was only confined in the Municipality of Mangaldan. Neighboring towns or municipalities or cities were not included since it is no longer within the area of responsibility of the Philippine National Police (PNP) of Mangaldan, Pangasinan.
Gonzales, Anne Murry V.