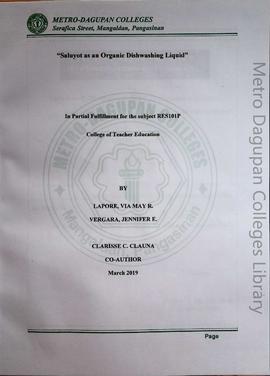 Saluyot as an organic dishwashing liquid
Excerpt from Scope and Limitation of the Study:
This study covered about Jute or Jew's Mallow and what is the goodness that it can give when it comes to cleaning action. First of all, it is very important to ask a question why is it Jute is a vegetable one chooses to make a dishwashing liquid? It is because it is known fact that Jute it easy to find here in the Philippines. Furthermore, jute has nano zinc that can kill bacteria that is harmful to us. Second, why is it we give our time for this study if we can buy dishwashing liquid from the stores? Is it because there are so many leading dishwashing liquid brands all over the Philippines even around the world but some of those are not totally killing the bacteria around the kitchen utensils.
Lapore, Via May R.