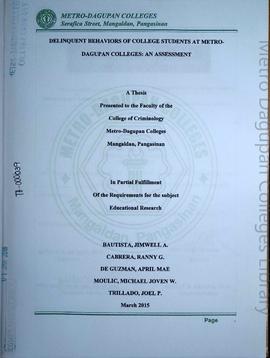 Delinquent behaviors for college students at Metro Dagupan Colleges: An assessment
Excerpt from Scope and Limitation of the Study:
This study included the assessment of the behavior of college students who are enrolled and studying at the Metro Dagupan Colleges. This study assessed the behavior of college students upon entering the school campus. Behaviors of the students outside the school campus was not assessed by the researchers. Highschool students were not included in this study.
Bautista, Jimwell A.