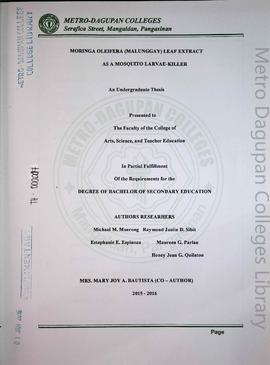 Moringa oleifera (malunggay) leaf extract as a mosquito larvae-killer
Excerpt from Scope and Limitation of the Study:
The research study was conducted at Metro Dagupan Colleges. The extraction of "malunggay" leaves and other chemicals was done at the laboratory room of Metro Dagupan Colleges. Malunggay leaves were used as the major variable because these plants are found everywhere. Furthermore, this research focused on studying the effect of malunggay leaves on mosquito larvae for these organisms are believed to mature into adult mosquitoes that disperse everywhere, and the larvicidal treatment helped reduce adult mosquitoes' population that becomes a pervasive outdoor pests.
Muerong, Michael M.