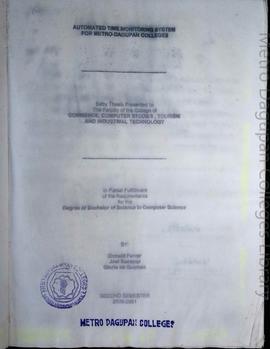 Automated time monitoring system for Metro Dagupan Colleges
Excerpt from Scope and Limitation of the Study:
The computation of faculty and employee's salary is not included in the system because the capability of the system is to record and monitor the attendance of their personnel as they log-in and log-out. The study conducted is only for the faculty and administrative staff of Metro Dagupan Colleges. The researchers started for the development of the system last January and ended last October of this year.
Ferrer, Donald A.